Apps you need
The best shared calendar apps in 2023 😎
Keeping track of the million things you've got going on in your life is hard 😳 So, here is the list of the best shared calendar apps out there for all aspects of your life so you can get more organised than ever!
The 5 best shared calendar apps depending on what you're after are…
Best for your social life: Howbout
Best for work life: Asana
Best for life with kids: FamCal
Best for couples: TimeTree
Best for structured groups: Meetup
And here's why…
1. Howbout
Best for your social life and sharing with friends 👯‍♀️
Howbout is the best app for sharing calendars with friends and keeping your whole social life together.
One of the biggest challenges is arranging plans and meet-ups that actually end up happening. Whether it's with your uni mates, your work friends, your running club, your family or even your significant other - it can be pretty much impossible to find a date that works!
But Howbout's got all the features you need to get your social life organised without any of the stress.
🗓 Share calendars - With Howbout's shared calendars, it's easy to see what your friends are up to, find out straight away which dates they are free and make plans.
📊 Send polls - You can easily make a poll within the app to help throughout the decision making process. Whether it's to find out which dates work best for your friends or to decide whether you want to go axe throwing or play crazy golf, and which bar you want to get drinks at afterwards.
👯‍♀️ Create groups for your different social circles - From uni mates, your work colleagues, your football club or your fam - you can make them each a specific group in the app. Then, share calendars, send polls and chat! It makes it so much easier to get together and iron out all the details.
🔄 Calendar syncing - You can easily keep all your plans together by syncing your Howbout with any other calendars you may have - like your phone calendar, your work calendars or any other calendars you subscribe to online - and let your friends factor that into your availability if you'd like! You'll always be in full control of what you share and what you keep private.
🎉 Customise your plans - On Howbout, you can easily make plans with anyone. Every plan & invite can customised with pictures and gifs, keeps all the details together and lets you share the plan with anyone, whether they're on Howbout already or not!
💬 Group and plan-specific chats - Best part? No more millions of new group chats or details getting lost in side conversations. Every plan and group on Howbout has its own built-in chat!
🕺 Turn ideas into plans - It's so easy to instantly forget things you want to do or places you want to go when it comes to making plans. With ideas on Howbout, you can keep track of all things you want to do so you've always got options to suggest.
🙌 100% free - The app is totally free and available on both iOS and Android.
2. Asana
Best for work colleagues and project management 💻
When it comes to managing your work life and syncing with your colleagues, Asana is a great shared calendar app for boosting productivity.
It enables teams to plan, manage and visualise their workflows in a shared team calendar. Upcoming deadlines are clearly marked so you know who needs to do what - and, most importantly, when.
You can view tasks by due date on a calendar or you can sort and filter them in a list layout. The calendar view has drag-and-drop functionality so you can move due dates and timelines according to changing project demands.
Asana can also integrate with Google Calendar, iCal and Outlook so you can sync multiple calendars together.
The focus here is very much on work life and project management, so if you're looking to share calendars for your life outside of work, this probably isn't the best option for you.
3. FamCal
Best for managing life with kids 👪
FamCal is a practical shared calendar app for families who need to keep track of where the kids need to be and when. Lily has a football match after school? Jack has a dentist appointment Friday afternoon? No problem - you're on top of it.
Once you've added your family members to the app - you can share events, shopping lists, recipes, memos, important dates and contacts.
FamCal allows you to combine calendars, events, tasks and notes in one place so that you can easily keep everyone in sync and organised.
However, only some functions are available with the free app and you'll need to pay a subscription to get additional features like shared contacts or birthday and anniversary tracking. The free version of the app is filled with a lot of ads so you'll need to sit through the promo videos to get to the main features, which could get frustrating for busy parents!
4. TimeTree
Best for couples syncing schedules 👩‍❤️‍👩
Whether you're finally trying to arrange a much-needed date night, find time for a weekend away, or just need to know who will be in for a delivery, TimeTree is a great app for syncing calendars with your partner.
You can categorise different calendars for different areas of your life, as well as sync it with your other existing calendars, like Google Calendar or Outlook.
However, like FamCal, the free version of TimeTree is filled with ads and many of the advanced features fall within the paid version - which, of course, you'll need to pay a subscription for!
5. Meetup
Best for structured groups 🎾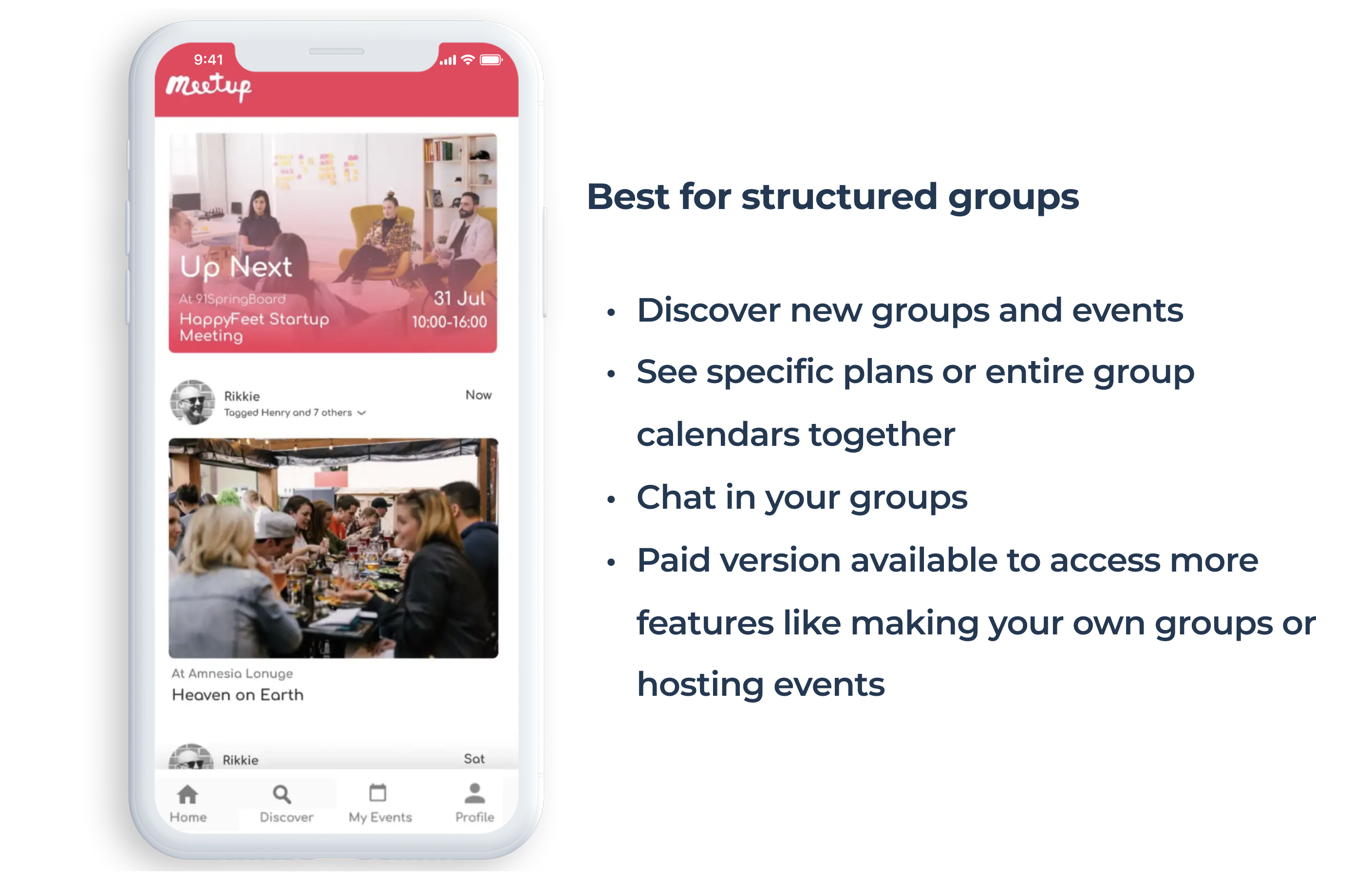 Meetup is primarily an app for those who are looking to find and join structured groups near them, maybe trying out a new sport or restarting an old interest. You can find existing groups or start your own new one!
It has a shared calendar feature specifically for groups so you can keep track of any and all upcoming group events (although keep in mind that only Hosts can post plans). You can also chat to people within your group to keep the social interaction up between events.
Most features are kept behind Meetup's paywall, but if you don't need the full set of features or don't want to pay the hefty subscription fees, you can also host your group on Howbout for free.
Howbout has a simple groups feature with all the basics - you can add events specific to your group, share group calendars, send polls, and chat. Every member can share plans and events too.
What to look for in a shared calendar app
Before you go and download a new calendar app, make sure you've picked the one that is right for you.
Shared calendar apps suit us all in different ways - which is why we've picked our favourites depending on what you're after.
Lots of traditional shared calendars - the Outlooks, Google Calendars and iClouds - have been built with the simplest of scheduling in mind. However, their features are not always right for busy social lives!
If you're looking for a group calendar app for your friends and various social circles, here are some features you can look out for:
Ability to sync with your other calendars.

Lets you check peoples' availability or their full calendars.

Allows you to create multiple groups within the app - for friends, people from work, family, groups and clubs, your partner, and more.

Lets you send invites to anyone - whether they're on the app or not.

Creates chats that are specific to each group or event so that you can chat without getting mixed up in side conversations.

Lets you share polls to help you decide on the best date or sort out any details.

Has a notes feature or ideas tracker so you can keep everything in one place.

An app that isn't overrun with ads.

An app that allows you to access the key features that you're after without a paywall.



We hope this guide to shared calendar apps has got you feeling inspired to get organised! If you want to finally get your social life sorted, we think Howbout could be a great option for you. Why not download it and give it a go? 🤷